Reading Time:
7
minutes
Dell XPS 15 9510
Introduction
Hey folks, here we go again with the brand new Dell XPS 15 9510 Review, probably the best Windows laptop you can buy so far. Although there are still a few areas for improvement, we have a quality control issue as I am going to show you in this review. I am going to show you a full review of this amazing laptop.
So, let's start with the Dell XPS 15 9510.
What's new about Dell XPS 15 9510?
We're getting the latest 11th gen intel processors the h45 series but I think more importantly we're getting the brand new RTX 3050 ti graphics cards which are not only faster but because we've gone from the GTX 1650 ti in last year's XPS 15 to the RTX series of graphics cards. We're getting all the RTX features like ray tracing and DLSS which really is the big deal and things like Nvidia reflex and broadcast.
So, I can say that the graphics card is the biggest upgrade in Dell XPS 15 9510. Also, we're getting faster ram, we've gone from 2933 MHz up to 3200 MHz. We also now get two thunderbolts 4 ports whereas before we had thunderbolt 3 and if you want to go crazy with the spec there's a new 2 terabyte storage option.
But it's also not just what's on the inside because this is an OLED screen now we actually had an OLED version of the XPS 15 two years ago. They dropped it last year for some reason, but now it's back. So, there are actually three screen options you can buy. A full HD non-touch, 4k touch and, also 3.5k touch but it's an OLED screen, so not quite full 4k which is a little bit annoying.
Design
With no big changes on the design from last year's edition, the Dell XPS 15's design is almost the same. With 16:10 display and even slimmer bezels. Well built and made of premium materials.
Dell still keeps the webcam on the top of the display, preventing it from looking straight at your nose like other many competitors do.
There are two Thunderbolt 4 ports and a lock slot on the left side of the laptop. The right side is where you'll find a USB-C 3.1 port, a full-sized SD card slot, and a 3.5mm headphone jack. You can use the USB ports or thunderbolt for charging or video out.
Dell also includes a little dongle within the box, which converts a USB-C port to a USB-A port and HDMI.
At 4.3 pounds and 13.57 x 9.06 x 0.71 inches, the XPS 15 isn't the slimmest or lightest 15-inch notebook on the market.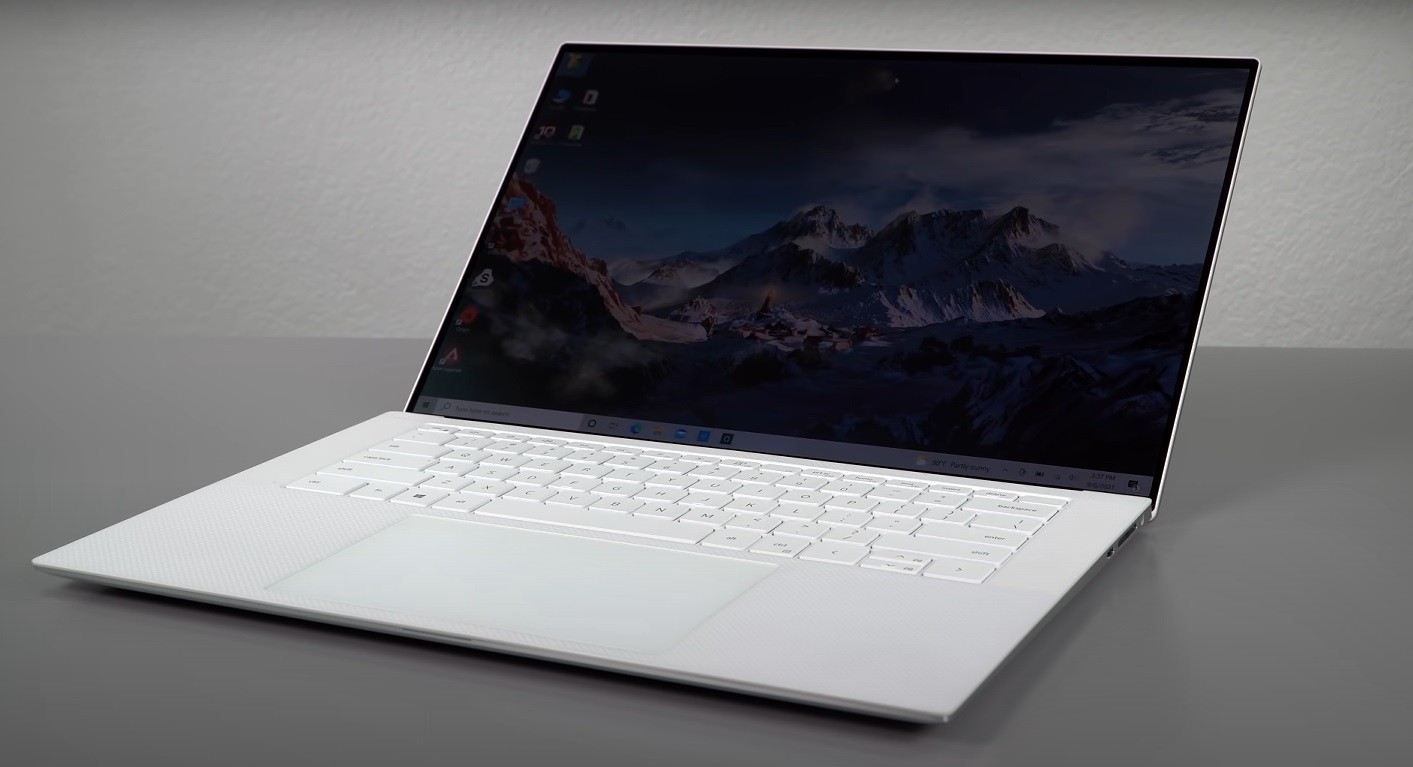 Screen
Now, let's talk about the screen, it's the first time we've had an OLED option on an XPS 15 in a couple of years and actually, there is no OLED option on the 17-inch. This is the only one you have basically, so as you would expect from an OLED, we're getting near infinite contrast, inky blacks, lovely punchy colors, and also no blooming or light bleed which are some things that we do get when we're talking about mini led screens.
The downside of that is that it doesn't get as bright and actually when you look at the specs on dell's website the two other screen options whether it's the full HD plus non-touch or the 4k plus touch both are 500 nits whereas this is listed as 400 nits so it's a little bit dimmer this is a 3.5 k display which I think is the first one I've ever seen with a very strange resolution, this is a little bit under native 4k.
So, it won't be quite as sharp in terms of the pixel per inch density although you'd be hard-pressed to notice, and also you can of course still play stuff in 4k. But, you're not going to get it back natively so if you're a stickler for that resolution if you're all about video editing and you really have to see that full resolution maybe that's worth sticking with the LCD but we're still getting 100% SRGB, 82% adobe RGB and high p3 with this. So, it is remarkably color accurate.
Upgradability
If we take the base off, we can see that we have two ram modules which you can upgrade later if you want. Also, the m2 SSD is under a little protector. You can upgrade the ram and the storage later then. So, you might want to go for a slightly cheaper spec to start with, and maybe later then you upgrade it down the line.
So, new processors, although sadly still no AMD option, a new graphics card, Thunderbolt 4, there are OLED screens and that's pretty much what's new.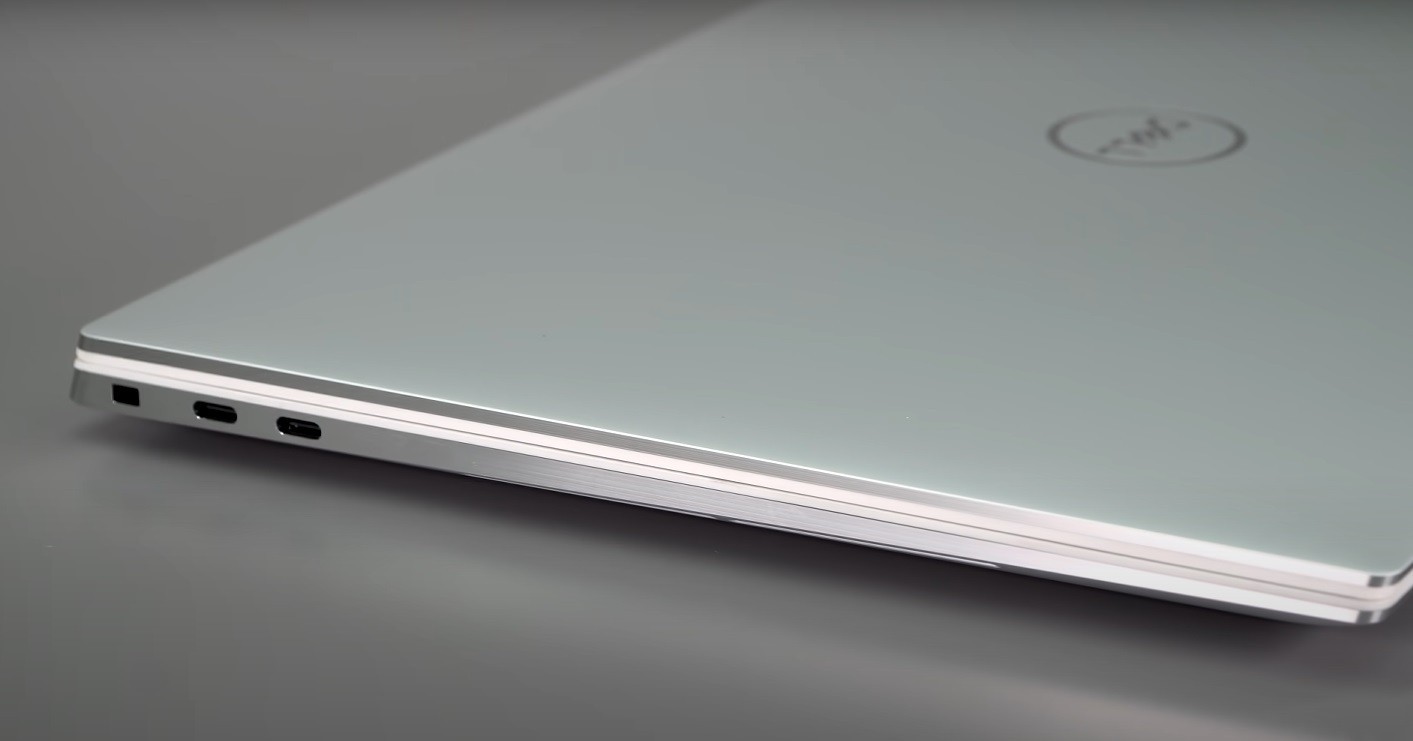 Performance test
The big question is how much faster is this? Well, in benchmarks compared to last year's model with the 1650 ti albeit the one I've got here has a slightly lower spec 6-core i7 rather than the 8-core i9 and also 16GB RAM vs 64GB in here.
We're looking at about a 35 boost in single-core and a whopping 74% boost in multicore which is massive.
As for the graphics, if we include In the GPU part of the time spy test, there's a 33% average boost although bear in mind that this is a 45-watt TGP variant of the card so not the same as something like a 75 watt 3050 ti you get in the Asus Rog g14.
It's still the same name as the card but it's still a 4 Giga ram, 45w TGP so very much on the low-end which makes sense given the form factor of this but it does also, therefore, impact performance particularly in games.
Let's bring up other tables here, the results are all over the place in Rainbow Six siege we getting a 2% boost which is a bit strange but in Fortnite and cyberpunk we getting 50 and 70% gains which are insane.
RTX, DLSS
The big takeaway from there is the fact that we now get DLSS Ray tracing take it or leave it. It's going to impact the performance and we haven't really got the power to push it. DLSS is Magic that Nvidia deep learning super sampling and it's why we're seeing a 73% boost in cyberpunk going from 23 to 40 which is just about playable or up to 73 with Fortnite and this is all with high or epic settings. So, it's less about the raw horsepower increase and more about the technologies that come with RTX.
Keyboard & touchpad
We also get this lovely keyboard which is one of my favorites on a Windows laptop with a white backlight. And also this massive precision touchpad which very much is carried over from something like the MacBook pro onto here but no complaints it is lovely to use.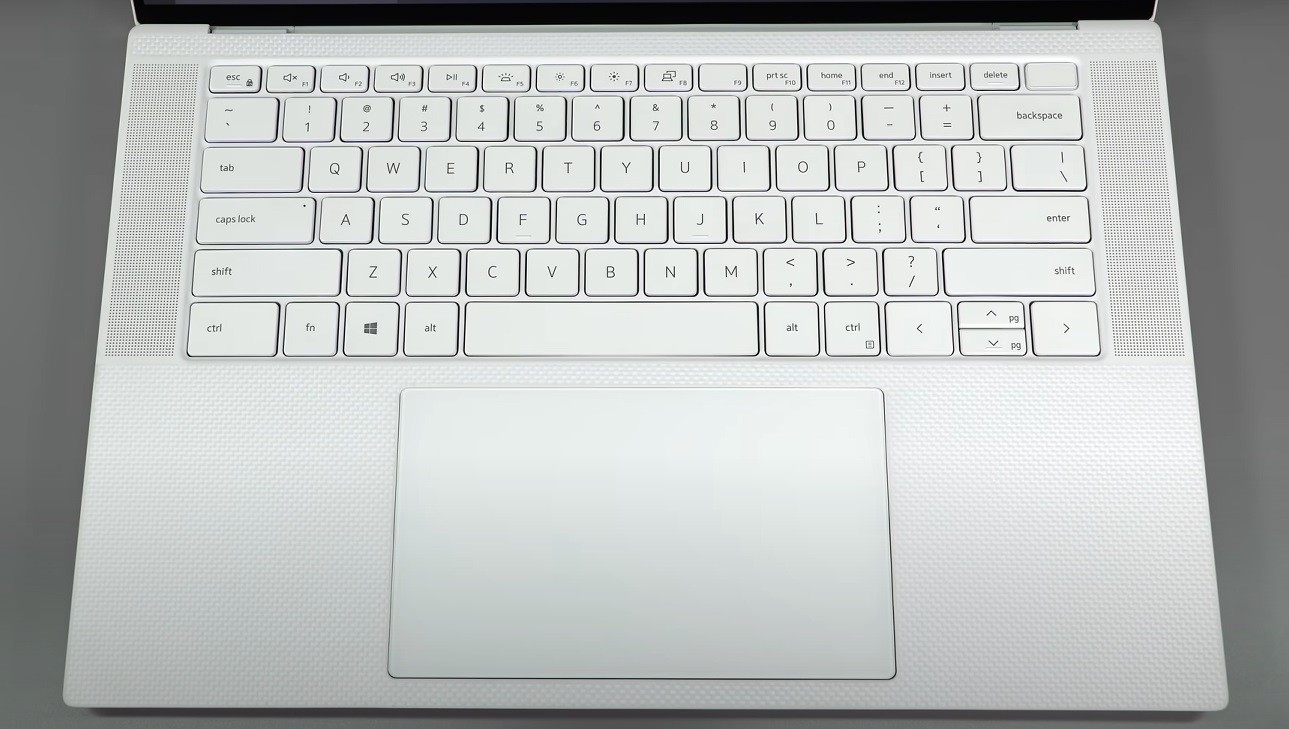 Worth upgrading to Dell XPS 15 9510
Well, I guess really if you are thinking about buying one of these and you're maybe weighing up going for the older version because you can save some money and get a good deal.
The question will be are you going to play games? Do those games support DLSS? because that's the big improvement in terms of performance and are you using any other sort of AI tensor core benefits.
Apps like Premiere Pro if not to any of those then you could probably stick with last year's version. It's maybe 15, 20% faster overall but not that significant, and you're getting essentially the same design, thunderbolts 4 isn't that much of an improvement over than about 3.
So, you could probably go with last year's version and save a few quid and I think it goes without saying that you should game at 1080p or 1200p on this screen, not 4k because that just destroys your frame rate although again DLSS will have a bigger impact improvement in terms of performance at that res but play at 1920×1200 now when this thing is under load it does get pretty toasty particularly underneath.
Webcam
Unfortunately, the webcam is a little bit rubbish, it is still 720P 30. I've got proper natural lights on me and it's really noisy the colors keep shifting obviously. We've got very thin bezels and it's a plus that is on the top bezel.
It's not directly looking up your chin but considering how important webcams are nowadays, especially after the corona pandemic we've had it is disappointing, it's definitely one of those features, I hope they make big upgrades in the future.
Battery
Finally, as for battery, we're getting two different sizes whether you go to the full HD or the other 4K still a 86 watt-hour battery, not quite the 99-watt hour battery we get in the MacBook Pro 16 for example.
I'm getting about 6 hours of use and say it's on par with last year and of course if you are gaming you'll get about an hour and a half with lower performance as well. So, with light use, it will get you through a full office day probably.
The power brick isn't too big, also, it's is color-coordinated to the model you go for as well which is quite nice although the actual plug itself is black, which is kind of ruins the theme a little bit. It is pretty portable like last year and still, charges buy USB-C which is nice so you can use that for your phone as well assuming you're on Android. however, as good as this is, of course, there is some room for improvements.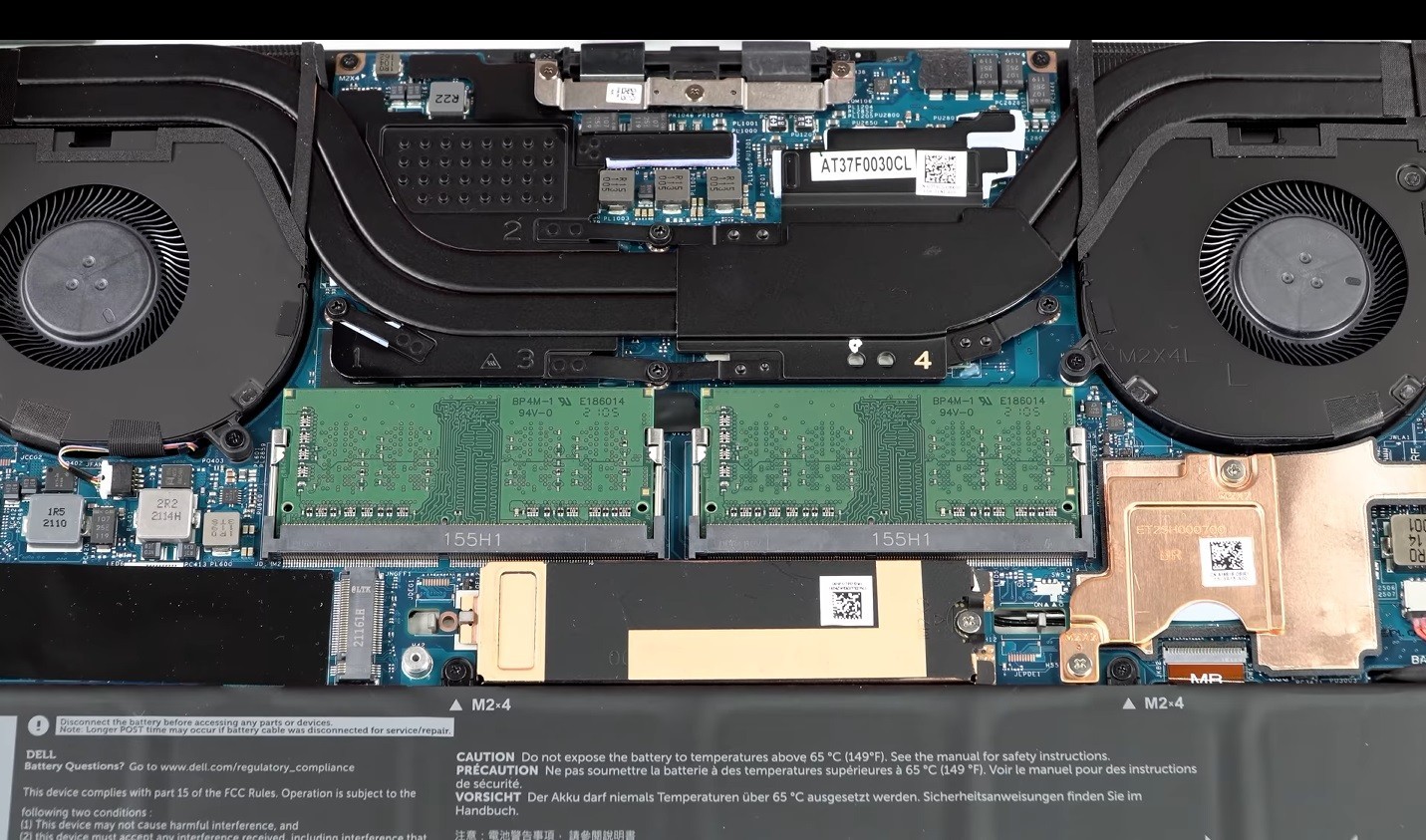 Conclusion on Dell XPS 15 9510
In conclusion, the new XPS 15 9510, I consider it as one of my favorite laptops pricey but very very good. There are, of course, other Windows options and a MacBook lineup but maybe before you take the plunge on this wait to see how the XPS 17 fares and which one actually ends up being a better buy.
In terms of my recommended spec, I would probably go with the i7 OLED screen. The 3050 ti and also maybe 16 gigs of RAM and 512 storage or 1 terabyte but as I say you can always upgrade the ram and the storage yourself later which is great.
In the end, I hope you like our review on the Dell XPS 15 9510.
Source Video
Read more articles
Bachelor of Electrical Engineering – Computer and control Engineering
Certified Security Engineer
Ruby On rails developer
Certificates: