Reading Time:
6
minutes
How to host a website on Qnap
Introduction
Here we go again folks with a new article about " How to host a website on Qnap ". So, let's go guys.
A lot of people are working with websites and increasing their productivity either by sitting at home or working from offices. Because these things, nothing to do with where you are and whether you work individually or as a team member, as these things are just concerned to how you work and what skills do you have to cope up with difficulties and errors.
Several platforms enable you to work online with the websites Before start working in this field, you must be aware of the web hosting service, a type of internet hosting service which helps individuals, organizations, and industries to make their website approachable around the globe, these are the companies that provide the space on their server to use by clients plus provide internet connectivity mostly in the data server.
What is a Qnap?
QNAP system ( network-attached storage ) is a corporation that consists of more than one hard drive that is always connected to the internet. QNAP works for you as the backup " hub " that is meant to store all your important files, documents, and media like music, videos, and photos. You can call it your hard drive but the one which can't be taken everywhere and can be placed at home and you or your family can get access to it anytime and anywhere.
How to host a website on Qnap?
You can host a website using the web-server
Built-in webserver
Built-in MYSQL server
Host your website in a place
This is one of the ways to how to host a website on Qnap.
Are you inspired by many people who are working online and probably eating more than you thought? Like them, you must want to build up an online shop to run your own business, but, you might be thinking that how can you deal with this complicated process as working online might sound difficult to deal with. But, you may have misconceptions here, and building the website can be easier than your thoughts. Because Turbo NAS is there to assist you.
PHP/MySQL Server
PHP/MySQL server gets the support from built-in web servers, enables running web applications on the Turbo Nas, and hosting websites such as Joomla online shops easily. You can also install 3rd party open source apps according to your requirements.
Host multiple websites on the Qnap NAS by the virtual host feature
Today, the online working platforms enable you to allow your users, customers, clients, or audience to interact with you or to your company via the world wide web, anywhere in the world.
In the past hosting a website was a bit difficult task, but nowadays, setting up unlimited websites is not the big deal of the professional in fact it is just a few clicks away as there is plenty of resources available on the internet.
A virtual host is the crucial aspect of this world, is a web server technique that enables the users to host more than one domain on one physical host plus offer a cost-effective solution for the small business or personal need. Qnap Nas hosting is all about virtual hosting and here we will discuss hat how you can set up different websites on Qnap using the virtual host.
Here is the provided information that is needed in the following table as a reference guide
Hostname
LAN/WAN IP & port
Document.root
Demo web application
●    site1.mysite.com

 

WAN IP: 111.222.333.444
/web/site1_mysite
Joomla!
●    site2.mysite.com

 

LAN IP: 10.8.12.45 (NAS )
/web/site2_mysite
wordpress
●    www.mysite2.com

 

Port 80 ( NAS )
/web/www_mysite2
phpBB3
What to consider before starting?
If you are going to start this process, make sure to keenly check the following items:
The hostname must be pointed to the WAN Ip of your NAS and you can easily compose this from your DNS service provider.
Must check your port before getting started and if the webserver listens on port 8o, you need to compose port forwarding on your router to allow incoming traffic from port 8o to the LAN IP of your NAS.
Are you going to enable an SSL certificate for your website? Plus have the purpose to use your own trusted SSL certificate? You may have to import the certificate from within the administration backend under " system administration " > security > import SSL secure certificate
Configure virtual hosting by activating the web hosting
You need to log in to QTS.
Go to "control panel" then "application" then "webserver".
After this, go to the "webserver" page and tick to enable "webserver".
Do you want to connect using a secure connection? " enable secure connection "  by ticking it.
After this, the next step is
Go to "virtual page" and tick mark it to "enable virtual host", click apply.
Then establish the connection by clicking on "create a virtual host".
you are almost done as you need to enter the information asked by the server including hostname, folder name, protocol, and port. Apply by clicking on it.
All the information is more than necessary but the hostname is crucial as it points to the website that is stored in the mapping folder.
Don't forget to create a folder under "web" before choosing the "folder name".
You are almost there as you have completed the maximum process and now you can upload web data to the NAS.
Here we are going to show you an example in which;
We put the Joomla files into "website-1_my site".
WordPress files into web/site2_mysite as well as PHPBB# files into  "/web/www_mysite2".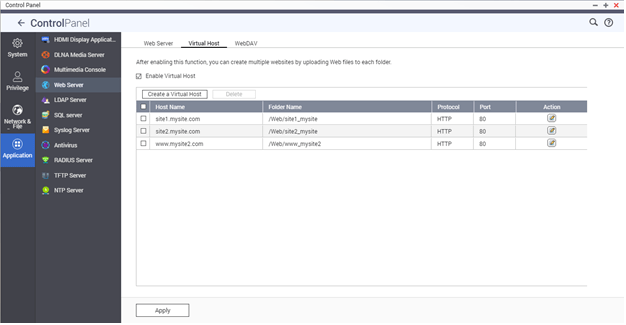 When you have done with the uploading, you are allowed to visit by entering the following website links.
Now you can see the Joomla! phpBB# and WordPress web pages respectively as well as the additional setup option includes enable SSL connection or choose other port numbers.
One thing to keep in mind that if the port forwarding on your router is not port 80. You have to add the post number after the URL to connect to the website.
How to publish your website?
Do you want to give access to your website, hosted on your NAS, you need to follow the steps below:
You need to upload the web pages to the "web" folder and replace or delete index.php ( the default file )
After this, register the myQNAPcloud address.
When you have done these steps, leave the process on the system as others will be able to connect to your site by entering your myQNAP cloud address in their web browser.
Why do you need a Qnap?
Some people don't really think about storage but we have found a solution for you. Storing with the Qnap enables you to rethink the way you store and how you would reuse and revisit your files.
Now, you don't need to be worried about losing a file as Qnap Nas acts as your backup solution if anything bad happens, whether it is a hard drive failure or losing a laptop or computer. You can get your data back!
Centralize and organize your file
Ever happened? You are trying to access the file that is stored on another device but if you centralize your files with the Qnap, it will get easier for you, your friends, co-workers, and for your family to access the files anywhere at any time.
Sharing the files through emails has been the top trend past years but now waiting for the file to get uploaded and then attached with your email is hectic so now you can share files with a unique link of your project files, albums, movies, and music.
It is better to store your files on your personal cloud, QNAP NAS instead of storing it into the public cloud as QNAP is just made for you only plus, it is secure, safe, and reliable.
Conclusion
To sum up, I wanted to give you a simple guide to be with you through your journey on "how to host a website on Qnap". I hope you find it useful and has all the information that you need.
Read more Articles
Bachelor of Electrical Engineering – Computer and control Engineering
Certified Security Engineer
Ruby On rails developer
Certificates: