Reading Time:
5
minutes
MochaHost Review
Introduction
If you're gonna do it, do it right, or don't do it at all. Every decision we make will affect our lives in many different ways. One of the biggest decisions we had to make when we are thinking about launching our website is choosing a hosting company. In this article, we are going to explain MochaHost Shared Web Hosting review from many angles. we'll try to help you to decide for yourself if MochaHost's shared plan is a good fit for you or not.
First, let's define Shared Hosting:
A shared web hosting service is a web hosting service where many websites reside on one web server connected to the Internet. This is generally the most economical option for hosting, as the overall cost of server maintenance is spread over many customers. By choosing shared hosting, the website will share a physical server with one or different other websites. With shared hosting, a server will store different other files and would be responsible for serving up the information about them.
To simplify it, shared hosting is a hosting plan where you would get the same IP address as any other website that resides in the same physical machine. You will also share the same resources like RAM, Processor, and any other resources.
Your files would be in a different folder but you will share the same IP. That's why when you get a link to your root folder. It looks like this xxx.yyy.zzz.ooo~sitename, where the "Sitename" is the folder where your website will be hosted in.
Some hosting providers might give you Dedicated IP for yourself only, some might ask for fees, and so on.
Soho, Business, Mocha
[table id=1 /]
Soho is a startup plan which costs 2.48 USD/month but if you choose three years plan you would get a discount. And it will cost 1.95 USD/month. They don't really clarify that part and I can't really get that but anyhow it's a promotional plan I suppose.
There are two big issues that I have with this advertisement:
The first one is the free SSL, which in the first place is a free certificate. You would have to renew every three months or you could activate the Certbot auto-renewal script on your machine. So, they are really just advertising free stuff as if it wasn't for free in the first place.
The second objection is the server power. All they said about it that it's ideal for blogs or small businesses which is incorrect. It's optimal for a simple CV single webpage and nothing more.
Explaining what is resources usage
If you would like to further understand what I'm talking about, get a look at the following picture: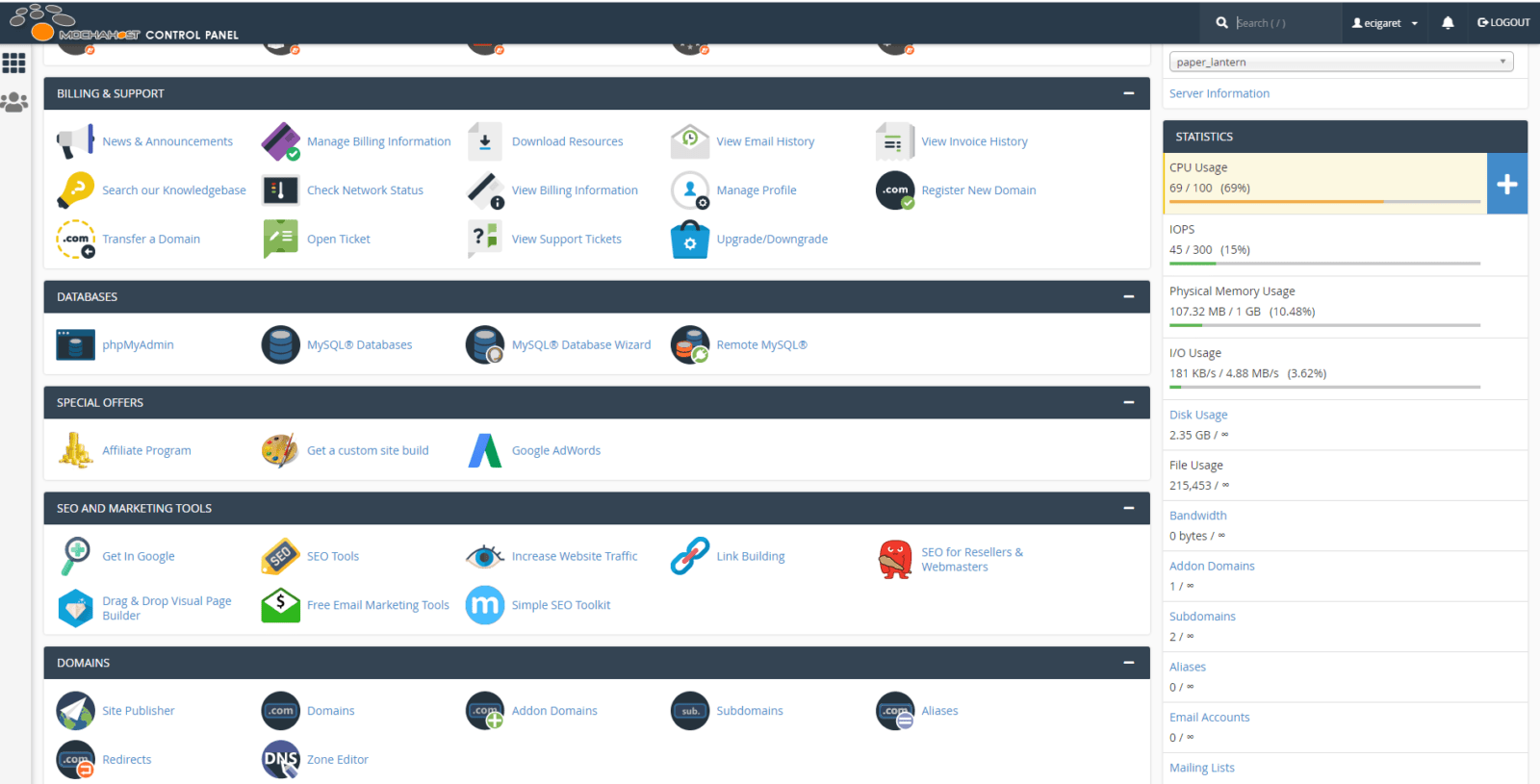 If you notice the CPU usage is 69% and the IOPS which is "Input/output operations per second" is 15%.
Surprisingly I had to disconnect all the websites attached to this plan because it didn't fulfill my needs. There's absolutely no resource usage or any attached domains. And I had to disconnect all of it from the DNS configuration, but I didn't delete it from the Cpanel and I'll tell you why.
First of all, when I subscribed to this business plan I did it only for one reason. Sometimes I will get a friend or a relative who wants a website. So, I needed something to make some prototypes on without too much headache.
Cpanel offers that option, one-click installation is a good solution. But as you may or may not know Cpanel costs fees if you want to install it, Mochahost offers Cpanel at a relatively low cost.
So I subscribed to this plane because I can use it to build a website in less than half-hour. But the thing is last time I needed to do that someone asked for a Magento website so I opened Softaculous and installed Magento on a subdomain. Surprisingly it did not go well this time, I guess because Magento requires more resources. Each time I try to open the link I get a "No resources" error.
I didn't contact them because it's not worth it. And I'm pretty sure that they're gonna tell me I have to upgrade to a VPS or something so I just disconnected the domain and moved to another hosting company.
So how Am I consuming resources while I have no active websites?
Perhaps it's affected with other websites hosted on the same machine, I don't know but as far as I'm concerned if you are going to give me something, then you have no right to share it with others.
So, you would get your unlimited traffic, unlimited domains, but in return, you would get limited resources. This means that every operation that will require contact with a database will be counted, meaning if you get too many visitors. You will get the "resources limit" error especially if you're using too many WordPress plugins.
Sometime in 2012, this website was hosted on MochaHost, I had an opponent who wanted a client of mine. He made a DOS attack on the IP, MochaHost suspended the domain and deleted 5 GB of uploaded data without notice because according to them it was an excessive resource usage.
Adword Coupon
One Mississippi, Two Mississippi
One thing also worth mentioning is the Adword coupon, it's a trick, after you sign up they will tell you it's only available to specific countries, so you better check their list if you're signing up to get a free coupon.
Email
Let's talk about some good things, it's not all that bad, the first good thing I can say would be their customer service is phenomenal, they really help and truly solve your problems, in fact, this is the main reason that keeps me coming back to them, is because they have some really good system administrators in their back-end.
The second good thing is the email server which is free with any plan, it's really good especially if you don't have the experience nor the knowledge on how to configure your own email server or how to setup an SMTP on your server.
They give you more than enough, I'm not evaluating the email server functions in this article it does the job well enough.
It looks like this from the inside
Softaculous
Another one is Softaculous Panel which is a very useful tool, you get to install hundreds of web applications such as WordPress, Joomla, Magento, Drupal, and many many more in just one click, you don't have to do anything other than just click install and choose your username, password, and installation path.
Also, it has some other cool functions like a Ruby on Rails installer, all you have to do is to set up the git credentials, and boom, your app is ready.
Verdict on MochaHost Review
Final words about MochaHost review to make you decide. Mochahost is a hosting company that was founded in 2002, they have a lot of options like VPS, Cloud, and shared hosting. If you are looking for cheap hosting and you are not expecting to use too many resources then it might work for you. If you are planning on building something that would consume lots of resources then better skip and look somewhere else.
Finally, I hope you like our MochaHost review, Stay tuned for more reviews and exciting articles.


Customer Support

Resources limit

Email
Bachelor of Electrical Engineering – Computer and control Engineering
Certified Security Engineer
Ruby On rails developer
Certificates: